b3 Brazilian Bond Builder is a breakthrough professional tool clinically shown to penetrate the cortex of the hair, and proven to reattach the bonds that are broken during all color services by utilizing an anhydrous delivery system and specifically engineered co-polymer to dramatically reduce damage while improving color retention with no change to developer and no added processing time.
Damage results from a combination of many factors; not just from chemical services, daily styling, or environmental stress. When hair is colored or lightened, the bonds that make up the cellular membrane complex are broken so that color can either be deposited or in the case of lightening, removed. As the cellular membrane complex comes back together, many of these crucial bonds no longer fuse, leading to the rapid deterioration of the cuticle and cortex cells responsible for supporting the inner structure of the hair.
b3 Brazilian Bond Builder works at the cellular level, targeting and repairing the broken and compromised bonds that cause hair to break over time without hindering or altering the coloring process. Lasts about 12 washes so longevity will depend on how often you wash your hair and if you're using the Brazilian Blowout aftercare products.
Mixing b3 Brazilian Bond Builder into all color formulations effectively helps to restore the integrity of the hair. The result is a dramatic reduction in breakage during color services for hair that is noticeably healthier and more resilient, and color that is more vibrant and longer-lasting immediately following and between appointments.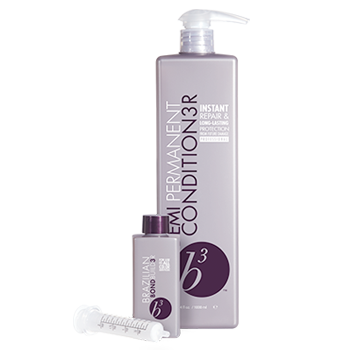 FAQS - B3 BRAZILIAN BOND BUILDER
WHAT IS b3 BRAZILIAN BOND BUILDER?
b3 Brazilian Bond Builder (also known as b3) is a professional tool that can be mixed into all color formulations to build bonds, allowing for more creative freedom in your color services helping to reduce damage with no added processing time.
WHAT IS THE SCIENCE BEHIND b3?
b3 Brazilian Bond Builder utilizes a specifically engineered co-polymer combined with a high-purity targeted delivery system. This scientifically advanced one-step system reattaches and builds the bonds that make up the cellular membrane complex, helping prevent the loss of cuticle and cortex cells responsible for supporting the inner structure of the hair. This breakthrough technology dramatically reduces breakage and helps prevent damage during color services, improving the overall integrity of the hair while prolonging color retention and vibrancy between appointments.
GENERAL RATES
Brazilian Blowout b3 Treatment
Starting at $80 and up depending on length, thickness and curl type. Please email a recent hair photo to [email protected] for all bookings and price quotes. Photo must show the back length and natural curl pattern, no face required. Clients who cannot show their hair call or email and please notify upon booking. Private room available
*

48 HOURS NOTICE IS REQUIRED FOR CANCELLATIONS OR A $100 FEE MAY BE SUBJECTED ON LAST MINUTE CANCELLATIONS OR REBOOKINGS.
*

PRICES SUBJECT TO CHANGE